When to Tow With a Flatbed and When With a Dolly?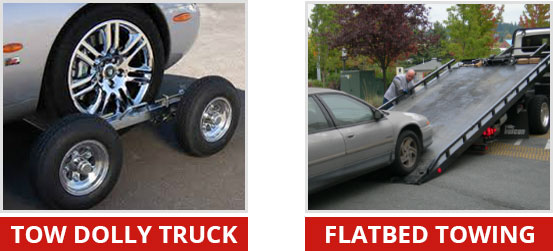 Flatbeds Towing vs. Tow Dolly Trucks
If you ever needed to get your car towed, you probably were asked by the towing service if require dolly towing or flat bed towing? If you reply was "huh?" we are here to set you straight on the differences between dolly towing and flat bed towing.
Dolly towing (also known as the hook method) refers to a towing device that is little more than two wheels, an axle and a tow-hitch, a dolly trailer is used to tow a Front-wheel drive suspension car by hooking the two front wheels onto the trailer while the two back wheels are still on the ground.
Flat bed towing refers to a flat bed tow truck where the entire back of the truck is fitted with a bed that can be hydraulically inclined and moved to ground level, allowing the customer's vehicle to be placed on it under the vehicles own power or pulled by a winch. Flat bed towing is used typically for the towing of 4 wheel drives and other heavy machinery such as bull-dozers, excavators and dumpers.
The main difference between flatbed tow trucks and dolly tow trucks is the level of security that each truck provides. Flatbed towing is the safest way to transport a vehicle, as they don't require any special adjustments to the vehicle's powertrain. The car doesn't absorb any wear and tear, as it would with a regular dolly, since all the wheels are completely off the road. Flatbeds are ideal for luxury cars, vintage cars, and to keep your vehicle safe when being transported. The only real drawback to flatbeds is the prices, which can cost you a lot of money, depending on how far you need your vehicle towed. Dollies are cheaper in price, but can cause a significant amount of damage to your vehicle, if the truck hits any major potholes or cracks in the road. The risk of damage is greater with a Dolly, but it still does it job, nonetheless.
The tow dolly lifts your vehicle's front wheels off the pavement, unlike a flatbed, which hoists your vehicle entirely onto the truck. One excellent advantage the dolly has over the flatbed, however, is that you save money on the total amount of mileage. A tow dolly keeps your towed vehicle's mileage at the same count as it was before, but it cannot handle the same amount of weight as a flatbed can. Whenever you plan on towing a vehicle, you want to be sure to hook up the tow dolly to the towing vehicle before you load the vehicle to be towed. If you're driving a large model vehicle, you might want to seriously consider paying a few extra bucks, and going with the flatbed option, as it's the safest as well. The bottom line here is safety, so the flatbed would have to win the battle overall. You should also check with your insurance company to see if your vehicle can qualify for the first couple of miles, which can be covered.
Whether you need a flatbed towing, long distance towing or a simple dolly towing, we'll be here to help you out. At Emergency Towing, we work with a fantastic team of dedicated technicians that will be by your side, when you need them. We provide all types of towing services, and we will be glad to explain you the differences between each unique service. As our company name implies, we work 24/7, 'round the clock, so you can always get a hold of us. We are fully certified, and we'll also provide you with the most competitive rates in the market. Don't settle for second best, give us a call today, and let Emergency Towing, take good care of you!